May 25, 2020 |
Web
What is the Scope of ECommerce Web Development and How Much it Costs for Development?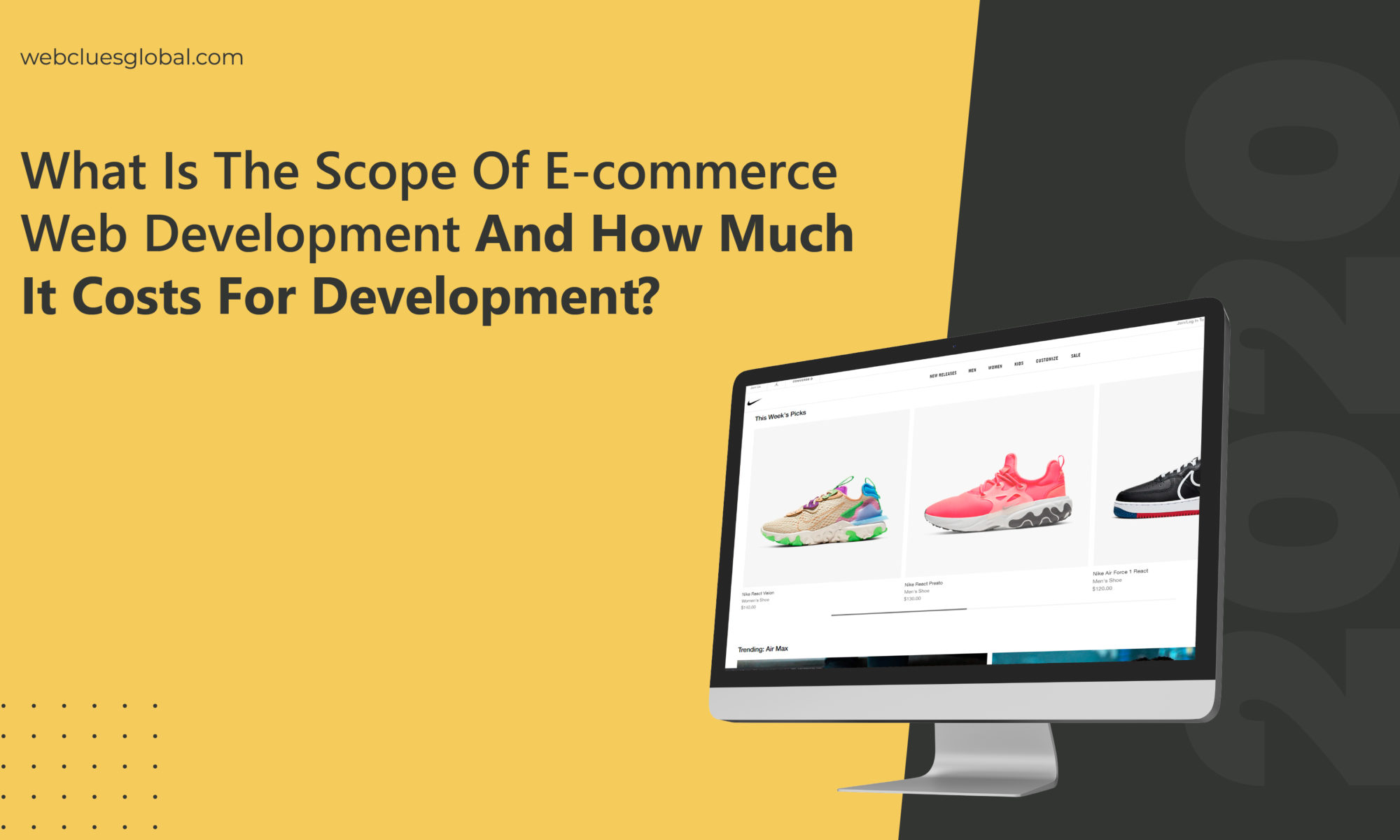 ECommerce web development service can be a complicated process, but it is the must for achieving success in online business. The ECommerce web development process involves several methods, and the cost of developing a website through an ECommerce web development company may vary from developing through hiring ecommerce website developers. You have many free and paid websites available online to develop a basic ecommerce website. This blog provides you with some good piece of information about how to choose the Best Ecommerce web development company and how to emerge as a successful eCommerce development company.
Also, you get to know the approximate investment required to develop an ecommerce website in the following sections.
Benefits of Ecommerce website development
There are quite a few benefits that you receive with the development of an ecommerce site.
Reach out to the world: With the help of ecommerce developers, you make your brand reach close to your target audience and sell your products or services easily online. Moreover, your service reaches to every single customer without having any geographical limitation.
Fulfill your customer needs: Customer behavior is something that a business person needs to concentrate on. Your developer designs your ecommerce website in such a way that all your customer needs are fulfilled, by providing A to Z categories for purchase.
Improved listing: Products or services are listed in an enhanced manner and every single category will have multiple sub categories making your job easy to make your wish list in the cart.
Detailed information about products: Your product or service information is provided in a detailed manner, which consists of how the product is made and by using what ingredients it has been made; what kind of positive effect you receive if customers use your product or service; every single description is given.
Round-the-clock purchase: An ecommerce website is designed in such a way that anytime you can order on the respective web or mobile app and purchase products of your desire.
User-friendly features: Fabulous and necessary features such as currency support, language, calculator and shopping cart are developed by your ecommerce developers, along with the integration of payment gateway and shipping facility that allow your customers to receive orders with safety and tight security.
Easy inventory management: Ecommerce developers develop your website in such a way that you can easily manage all orders, stocks, inventory and even customer data and efficiently as well. This will help you in business growth, expansion and profits.
Beneficial to businesses: If you know that your business has the right pitch of entering into ecommerce selling, developing an ecommerce website definitely helps you.
How much does it cost to develop an ecommerce website?
You can develop an ecommerce website ranging from $1,000 to $1,000,000 or even more than that. Anyhow, if you want to develop an ecommerce website with decent features, you at least require $50,000. The changes in price may happen based on the ecommerce website complexity and user interface and user experience design complexity, technical stack and the development vendor and their pricing.
As a business person, if you plan to establish your business online, before you develop an ecommerce website through an ECommerce Development Company, then it is recommended to understand and consider these factors.
Decide the vendor type—whether you are going with a freelance ecommerce developer, in-house developer or remote software development team.
Think twice about vendor rates—Choose the vendor appropriately which may vary based on vendor's location, experience in relevancy, portfolio, etc.
Consider the complexity of website design and number and complexity of website functionalities.
Integration of third-party services and timeline required for achieving business objectives.
Cost of ecommerce website hosting and SSL certificate.
Marketing and SEO expenses based on the promotional strategy you plan.
If you are opting for a custom ecommerce website design, then the cost might vary accordingly.
In some cases, the median price for UI/UX design for customized ecommerce websites ranges till $5,000 for a single platform.
In case you choose multiple platforms, then depending on complexity of the platform and its features, the cost may vary.
Custom ecommerce websites may involve a certain complexity level in app development, and so the number of hours required to accomplish the website may extend. It also includes a number of existing and few features and platforms.
Following are the main factors that determine the total cost of an ecommerce website design
Total number of web pages or category and sub category pages required
Graphics and pictures required for the ecommerce website design
Customization level of website design
Required website domain registration and hosting
Website performance and interactivity
Mobile devices and tablets optimization in terms of mobile responsiveness
Amount of materials provided by clients
What are the different stages of an ecommerce website development?
1. Discovery stage: lasts for 2–4 weeks approximately
This includes market and competitor analysis (optional but good if considered), product backlog development, UX/UI design, team review, project management and early planning.
2. Development stage: ecommerce website version lasts for 3–5+ months
This stage includes web front-end development and back-end development, quality assurance and testing, project management and team review.
3. Main features of ecommerce website development
The following list contains primary features required to develop an ecommerce website.
Email authorization, social authorization, categories and products, product search, basic product page, product reviews, basic cart management, credit card payments, checkout, order history, search, favorites, analytics, CMS panel: admin authorization, admin management, category management, product management and order management.
How to Make your Ecommerce Website More Visually Appealing?
It is hard to make a website especially e-commerce more visually appealing if you are not a great designer. In general, there are 4 critical things determine the visual appealing factor for a website and those are listed below
Website/Webpage Design & Color
Attractive Picture/Graphics
Website usability
Website Consistency
By keeping those 4 basics above the par level will definitely give more visually appealing to an e-commerce website. Ecommerce layout having an intriguing design that differs from the traditional form of web design gain more attraction.

Similarly, incorporate the dynamic content particularly HTML5 and CSS3 wisely on an e-commerce web layout provider's better overall user experience. Finally, never forget to have a mobile layout for your E-commerce website because modern shoppers prefer a Smartphone for their online shopping. So having an m-commerce website becomes inevitable for business owners to survive in this competitive world.

Conclusion:

Multiple aspects of ECommerce Website Development are available for a developer, business owner and future developer or entrepreneur. You can even refer to several other forums or blogs for experts' opinion and understand whether you are on the right track. Utilizing ecommerce as a major platform for selling is always a beneficial factor for your business growth. You can anytime reach out to us for suggestions and advice on ecommerce website development. We also have experts to guide you through to reach the desired goal.

[supsystic-social-sharing id='1']